Self-Repair
MyJohnDeere Login
Location Finder
Careers
Apply for Financing
MyRandS Sign in
R&S Blog
Tuesday, June 30, 2020
ATC 300
written by Alan Mehne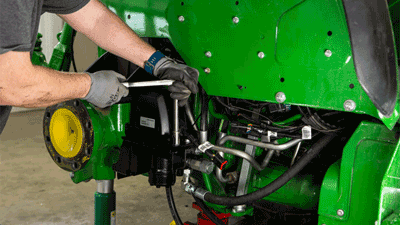 Do you want guided steering but your tractor isn't capable? Do you want guided steering but have an issue with the noise and the size of the steering wheel add ons? We have an answer for you.
John Deere recently released the AutoTrac Controller 300 (ATC 300), which can make your non guidance tractor, fully steerable, without a steering wheel add on, we can make it steer by wire, at a cost less than a traditional steering conversion.
The ATC 300 consists of a hydraulic valve, a controller, wiring harnessing, some hydraulics lines installed by your dealership using your display and receiver (or new). This system can be installed on either open or closed system hydraulics, from a compact up to an articulated tractor, with some limitations.
See your salesman or IS Consultant to explore the possibilities of completing your guided fleet or starting the one you would like to have.
For more information contact your regional IS Consultant.

Go Back to List