Self-Repair
MyJohnDeere Login
Location Finder
Careers
Apply for Financing
MyRandS Sign in
R&S Blog
Friday, February 21, 2020
Moving to the Next Level
Moving to the Next Level
written by Brandon Knoflicek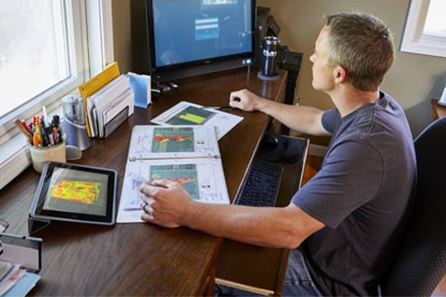 Partner of the Quarter
Growers do not farm alone. Do more with your data and the John Deere Operation Center by adding a connected software company. The operations center is an open platform that enables you to connect with a preferred partner. John Deere is partnered with over 180 companies that can pull from and push data to your account to provide more insight for timelier decisions. Each newsletter we will have one of these companies highlight their Operations Center Partnership, that could be used to create value from your data. Riesterer and Schnell Inc. does not have any exclusive alignments with these partners. Our dealership is purposely chosen that path, because most of our producer requests are very specific to their businesses. This quarters Partner is Farmers Mutual Hail below you will find their article.
Transforming Crop Insurance with Data
Growers across America are discovering the benefits of using their John Deere precision data to simplify crop insurance through Farmers Mutual Hail (FMH). From electronic acreage and production reporting, to faster claim payments and APH reviews, growers are saving time during busy planting and harvest time simply by using the data they are already collecting.
When growers use precision data for crop insurance, they are reporting with the most accurate data available, which means they are insuring exactly what they plant. With more accurately documented planted and non-farmland acres, growers may discover they are over or under reporting for federal programs. By reporting their exact planted and harvested acres, growers can increase their APH, reduce their premiums, and remove the hassle of paperwork.
"We recorded our data as we always have and uploaded it to John Deere Operations Center. It saves us a lot of time not having to provide the paper documentation," said an Indiana farmer.
Plus, Farmers Mutual Hail can use John Deere precision data and maps to settle a loss – reducing paperwork and increasing accuracy, which results in a faster claim payment. To use precision records for a claim settlement, FMH adjusters only require a seeding map, wet-weight harvest map, and calibration records. Because there is no need to measure bins, sort through load logs, or count scale tickets, losses that traditionally may take hours or days to adjust can be adjusted in a fraction of the time.
Save Time by Reporting through John Deere Operations Center
Send your John Deere data directly to FMH systems within your John Deere Operations Center account for seamless, secure reporting with just a few simple clicks:
Prior to submitting data, you will need to approve your FMH agent as an organization partner within your John Deere Operations Center account so they will be available to select as a receiver of your data.
When you have planting or harvest data to submit, simply log into your John Deere Operations Center account, select your field data, type of data, and insurance agent, then click export to send to FMH systems. Your agent will receive your data immediately to process and generate your acreage or production report for a signature.
Why FMH?
Farmers Mutual Hail is a pioneer in the crop insurance industry, and a pioneer in using precision data to simplify crop insurance. Founded in 1893, FMH has endured for over 125 years, relying on the company's core principles of integrity, service, and innovation to outlast the competition and continue to provide peace of mind for America's farmers. FMH continues to lead the industry in developing precision crop insurance solutions, supported by a dedicated staff and well-trained agents.
If Farmers Mutual Hail's crop insurance reporting interests you learn more about using your precision data for crop insurance at www.fmh.com/precision. Or check out the More Tools tab in the Operation Center to search for other connected companies that are willing to help you take your farming experience to the next level.
For more information contact your regional IS Consultant.

Go Back to List