Self-Repair
MyJohnDeere Login
Location Finder
Careers
Apply for Financing
MyRandS Sign in
R&S Blog
Wednesday, January 19, 2022
Instilling Homeowners Pride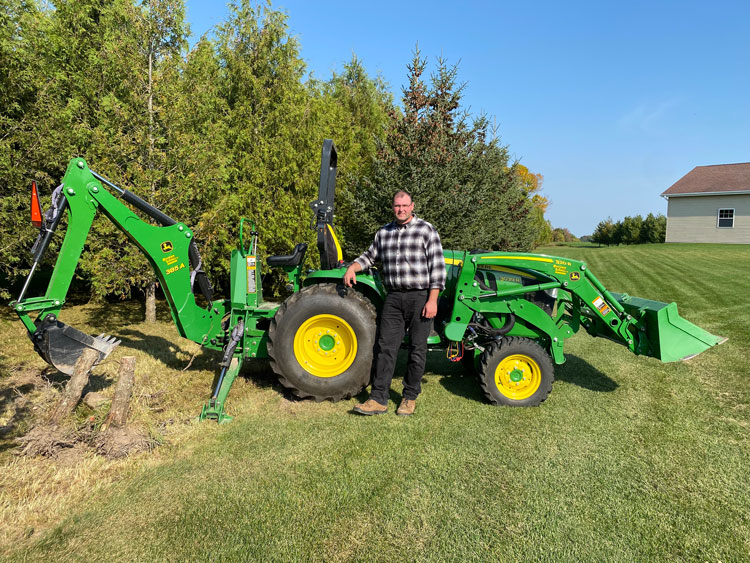 ---
We began construction in 2007 on what would be the new home for our young family, including my wife and four daughters on eight acres of farmland out in the country. At that time, I had no idea how the property and my goals for it would grow and evolve each year. Our home presented immediate needs for machines to help with projects, including four acres of lawn mowing, maintenance of a 300-foot driveway, keeping up with the management of trees, and new renovation projects like concrete work and other general construction needs.
In the early years, I had a 2006 4310 32hp tractor which gave me my first taste of freedom to tackle a variety of projects. It had a loader, a belly mower for the grass, an MX-series rotary cutter, and a front snow blower to take care of the driveway in winter. Then in 2011, I decided to go with multiple lighter machines for grass cutting and sold the bigger tractor so I wouldn't put tracks on the grass during the wet grass cutting months, mowing with a 3,000 lb tractor. This decision, which I soon regretted, would end up putting a severe limit on the tasks that I was able to complete over the next eight years. Our grass in the trees and woods area got way out of control, the driveway had been neglected, and most of all, there were many projects around the house that I had to keep putting off because I didn't have the right tools for the job.
In the fall of 2019, this all changed when I purchased a brand new 3 Series, a 3039R 39hp tractor with a 385A backhoe, 320 loader with heavy-duty bucket, pallet forks, a ballast box, iMatch hitch, and a new 655 tiller. I felt like the 3 Series was still the right size for me as it gave me the power I needed without being too heavy, would handle bigger attachments, and allowed for a strong enough backhoe to work with the small tree stumps throughout the property that needed to be removed. I have since purchased a Frontier rear box blade and I found an aftermarket three-point spring tooth and concrete mixer for the new tractor as well. This assortment allowed me to reactivate my homeowner pride and fuel my DIY enthusiasm that was previously lost. Now I can keep the driveway maintained effortlessly with the box blade, I can manage the forestry needs, I can move or smooth earth as needed with the loader, tiller, and spring tooth, and I can keep everything in my shed available and organized with shelving only made possible by the pallet forks add on to the 320 loader.
The opportunities for efficient property growth and maintenance are seemingly endless now. In fact, last summer presented a rare opportunity for us to dream big and tear up our entire back yard while the now college aged daughters were home most of the summer, as a result of Covid-19. We removed and replaced a concrete patio, dug trenches for gas lines to our sheds, cut some trees, changed the slopes of our lawn, poured a concrete fire pit, and put up a swimming pool. All of these projects were inspired by our revised homeowner pride and made possible with Riesterer & Schnell and our new John Deere 3-Series tractor.
Go Back to List