HX7 ROTARY CUTTER

Rotary Cutter

Gearcases and blade holders provide better performance
Deep-cutting chamber provides a better shredding action
Front and rear safety chains are standard for increased protection
View Product Brochure
Specifications
Capacity
hx7-rotary-cutter


Current Model

Cutting width
2,134 mm
84 in.
Cutting height
50 to 229 mm
2 to 9 in.
Cutting capacity
101.6 mm
4 in.
Cutting chamber Depth
300 mm
11.8 in.
Tractor compatibility
Tractor PTO HP range
Minimum 34 kW
45 hp
Tractor PTO
540 rpm
Hitch
Type
Lift-type
Category
2, 3N
Dimensions
Transport width
2,261 mm
89 in.
Overall width
Overall length
Deck shape
Domed
Deck type
Double decker
Deck thickness
Upper
3 (11) mm
0.118 (11) in.
Lower
3.5 (10) mm
0.138 (10) in.

Side skirt thickness
6 (3) mm
0.25 (3) in.
Approx. weight
625 kg
1,378 lb
Drivelines
Size
Main
ASAE Category 4

Protection
Main
Non-seize, slip-clutch driveline

Gearcases
Number
1
HP rating

Center
Continuous 112 kW
150 hp
Peak 152 kW
205 hp

Blades
Thickness
13 mm
0.5 in.
Width
102 mm
4 in.
Type
Single suction
Overlap
Blade tip speed
540 RPM
4,751 m/min
15,586 fpm
285 km/h
177 mph

Material flow system
Integrated
Holder
Type
Round stump jumper (single suction) for protection of blades and carrier against obstruction damage

Wheels
Type
Laminated
Row width adjustment
Shielding
Front
Chain
Rear
Chain
Key Specs
Blade tip speed - 540 rpm
Cutting capacity
Cutting width
Deck thickness - Upper - Lower
Drivelines - Size - Main
Hitch - Category
Protection - Main
Shielding - front/rear
Side skirt thickness
Tractor PTO HP range
Offers and Discounts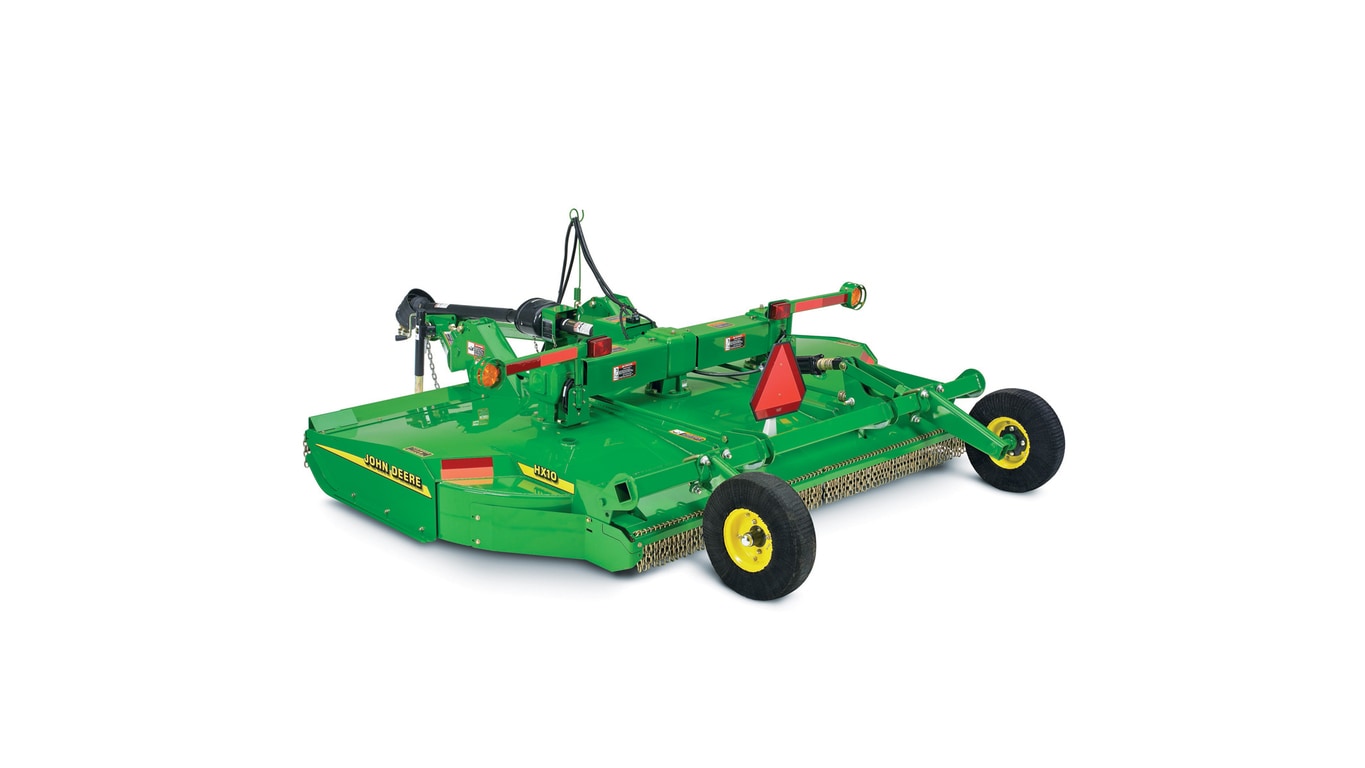 2.99% APR fixed rate for 24 months1
on New John Deere Rotary Cutters
2.99% APR fixed rate for 24 months1
Offer available

03 August 2022

through

28 October 2022
1Offer valid on qualifying purchases made between 03 August 2022 to 28 October 2022. Subject to approved installment credit with John Deere Financial. No down payment required. $42.98 per month for every $1,000 financed. 2.99% APR for 24 months only. Taxes, freight, setup, fees, and delivery charges could increase monthly payment. Available at participating U.S. dealers. Prices and models may vary by dealer. Offer available on new equipment and in the U.S. only. Prices and savings in U.S. dollars.
Accessories and Attachments
Miscellaneous
Constant Velocity Driveline with Lock Slide Collar, 540 RPM PTO - AP40625
Front Safety Shield - Chain - BP18448
Can be used to reduce the hazard of thrown material.
Front chain shields protect the operator, yet still allow uncut material to pass into the cutting chamber with minimal restriction.
Strongly recommended at all times, especially when working near roads or other public areas.
OPERATOR'S MANUAL, DECALS, AND LANGUAGE
French Operator's Manual and Decal Kit - BP18519
Spanish Operator's Manual and Decal Kit - BP18518